Our team has the experience to accurately determine if you have an asbestos problem.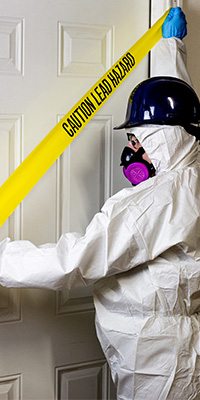 Asbestos was once considered a miracle substance with virtually infinite applications. It was used as an insulator, as a fire retardant, and more. However, modern science revealed a new understanding of asbestos as a major health hazard that has been shown to increase the risk for serious medical problems, including cancer. The risk is due to asbestos' thousands of microscopic fibers, which are easily inhaled, and can remain in the lungs for years after initial exposure. Inhaling even a small amount of asbestos fibers can have severe consequences for your health, so if you suspect you have asbestos in your home or business, you should schedule asbestos testing as soon as possible.
While there are at-home asbestos testing kits on the market, these kits are not guaranteed to give accurate results. Moreover, using one of these kits requires you personally submit samples, leaving you open to breathing asbestos fibers. The risk is present even if you use breath protection, as only professional grade gear is certified to protect against asbestos.
Our team at Double D Construction Services, Inc. has the proper equipment to safely perform asbestos testing and the necessary experience to ensure we get an accurate result. Should the tests come back positive, our team can also provide asbestos removal services that will make your home safe for you and your family.
At Double D Construction, Inc., we are proud to offer our services to the High Point, North Carolina community. If you suspect you may have asbestos on your property, don't hesitate — call us as soon as possible to schedule asbestos testing.
---
At Double D Construction Services, Inc., we offer asbestos testing services in Winston-Salem, Greensboro, High Point, Clemmons, Mocksville, Salisbury, Boone, Mount Airy, Asheboro, Concord, Raleigh, North Wilkesboro, Lexington, Thomasville, Charlotte, and Hickory, North Carolina.
Similar Services We Offer: