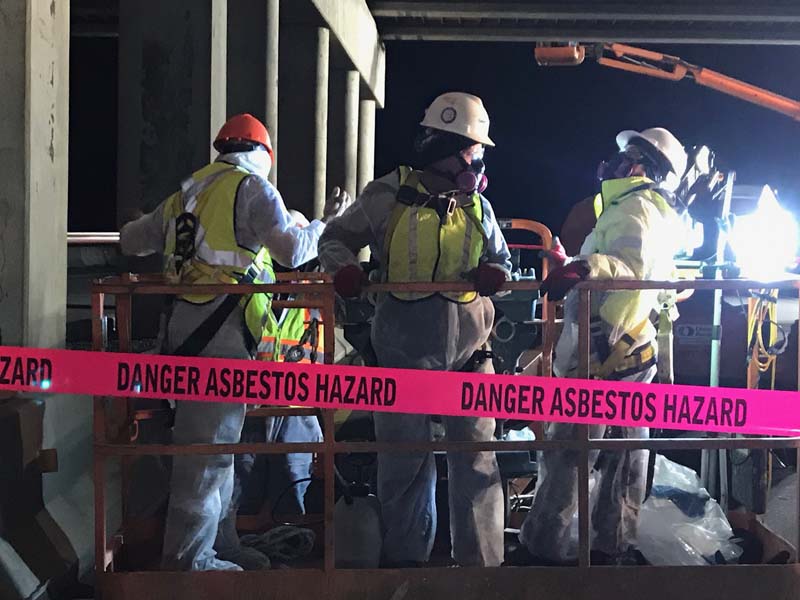 Double D Construction Services Inc. are certified and accredited experts in asbestos consulting, inspecting, abatement and disposal. With decades of experience our goal is to provide our customers with excellent customer service with the comfort and confidence needed to make your environment a safe and healthy place to be.
The number one question most people ask is what is involved with identifying and removing asbestos.
Step 1: Inspection – A site inspection by a certified and accredited specialist is necessary to determine where the suspect asbestos is located, if there is any damage to the area (which means asbestos fibers may be circulating in the air already), and to what extent the asbestos needs to be removed.
● Note: the only way to be 100% sure the material is asbestos is to have it tested. We use accredited laboratories for testing material.
Step 2: Site Preparation – A comprehensive plan and schedule will be established with clear guidance on site preparation. This includes how the area will be contained, timeline for abatement, if people need to be evacuated during the process, if content (personal possessions) of the area needs to be removed prior to abatement and assist with proper notification to occupants if necessary.
Step 3: Abatement – Start the asbestos removal process with approved certified methods.
Step 4: Disposal – Once our certified specialists have removed the asbestos material it will be placed in proper containers for storage and transport to a certified disposal facility.
Step 5: Certification – to ensure safe occupancy a final re-inspection will be completed.
---
At Double D Construction Services, Inc., we offer asbestos abatement services in Winston-Salem, Greensboro, High Point, Clemmons, Mocksville, Salisbury, Boone, Mount Airy, Asheboro, Concord, Raleigh, North Wilkesboro, Lexington, Thomasville, Charlotte, and Hickory, North Carolina.