Call on us for an itemized proposal for your residential demolition project in Hickory.
There are many reasons why a house may need to meet its end. You may have found that it needs extensive work to be inhabitable that just doesn't make sense. You may have found a wonderful property for new construction, but the snag is that there is already a house there that doesn't suit your needs. Whatever the reason you need residential demolition, there is one company to call in Hickory, North Carolina and the local Triad area when you want quality work.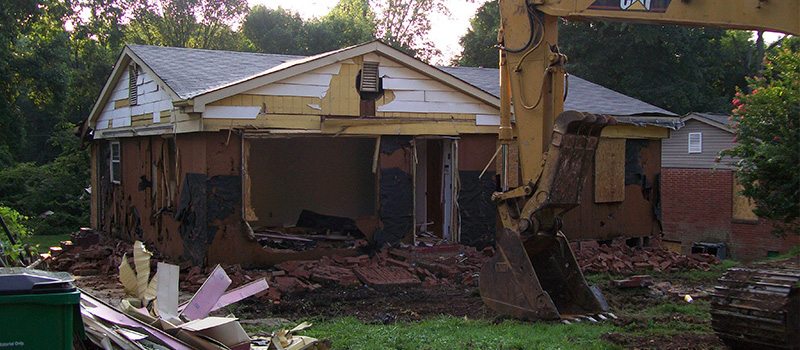 Our team at Double D Construction Services, Inc. is trained in the most effective and safest methods for residential demolition. Whether you have a situation where the home is on a large lot or snuggled close by other homes and structures, we will tear it down safely and completely remove the demolition debris from the property. Your property will be squeaky clean and ready to go to the next phase of your project. We'll even seed and straw it for you if you would like us to.
We can also be a part of the next phase, with our hauling services for bringing in sand, gravel or asphalt, as well as helping with tree removal, erosion control, and the landscaping of your property. You would be hard-pressed to find a residential demolition company that can be such a helpful component of your residential project as we can be. We set out in 1995 to give a bit more than other companies because this area is our home, and we care about those who live and work here. Contact us today to learn more and get an itemized proposal for your residential demolition project.
---
At Double D Construction Services, Inc., we offer residential demolition services in Winston-Salem, Greensboro, High Point, Clemmons, Mocksville, Salisbury, Boone, Mount Airy, Asheboro, Concord, Raleigh, North Wilkesboro, Lexington, Thomasville, Charlotte, and Hickory, North Carolina.