Contact our experienced team for residential demolition services that will be efficient, thorough, and done to the highest of standards.
When you live in a place like Clemmons, North Carolina, you appreciate historical properties. There are beautiful properties around this area and all over the country that were built by meticulous craftsmen and have features that you can't find anywhere else. However, when you have an older residential property that can't be saved, sometimes the best thing you can do is make something new and beautiful through the residential demolition process.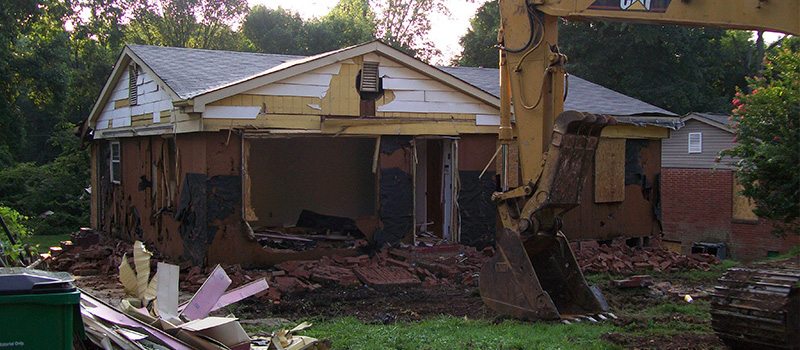 Whether you have a home that was damaged by natural causes, a fire, mold, asbestos, or neglect, our team at Double D Construction Services, Inc. can help you with the residential demolition services you need. Because residential demolition needs to be done carefully and by experienced experts, you can't call just any contractor for residential demolition. Here at Double D Construction Services, Inc., we have been working with demolition projects both residential and commercial for over 22 years now. We know how to appropriately section off your residential demolition projects so that surrounding properties are unaffected. We can give you tips on preparing any nearby neighbors for disruptions with an accurate timeline estimate. Additionally, once we have completed your residential demolition, we will completely remove the debris and rubble for hauling away, so your lot will be blank space full of potential. We then take the time to seed and straw the lot if that serves your purposes.
We have over two decades of experience in the residential demolition process, so you can feel confident that calling on our team at Double D Construction Services, Inc. for your demolition needs will give you the end results you are looking for.
---
At Double D Construction Services, Inc., we offer residential demolition services in Winston-Salem, Greensboro, High Point, Clemmons, Mocksville, Salisbury, Boone, Mount Airy, Asheboro, Concord, Raleigh, North Wilkesboro, Lexington, Thomasville, Charlotte, and Hickory, North Carolina.