We are trained and equipped to handle all of your demolition projects.
When it comes to demolition, you have the option of attempting the project yourself or hiring a professional. We believe there are several benefits of hiring a professional demolition company, and more specifically our team at Double D Construction Services, Inc.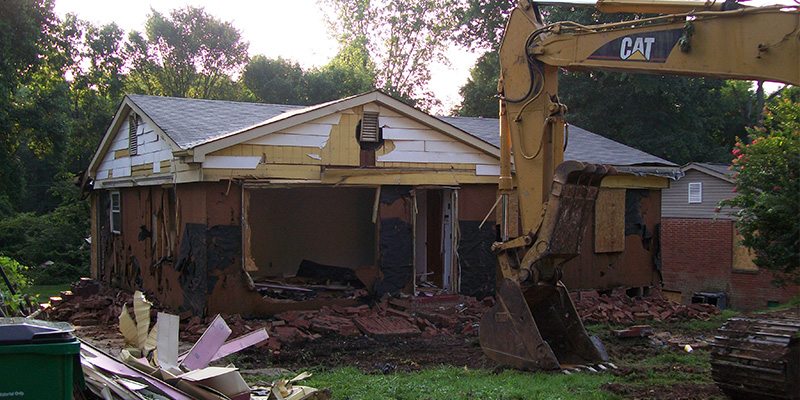 Proper Licensing – All professional demolition companies are required to have specific licensing, training, and experience. It is our job as professionals to make sure your project is done in accordance with both federal and local regulations. This saves you time and hassle in researching what is needed and obtaining the correct permits.  At Double D Construction Services, Inc., we have been in the demolition industry for over 20 years and are well versed in all of the proper licensing and procedures and have the experience and connections necessary to get needed permits quickly.
Training and Equipment – Hiring a professional means access to the proper equipment to take down any structure with efficiency. Our crews have been highly trained in operating the equipment and completing your demolition project with the safety and expertise you should expect from a professional demolition company.
Safety and Protection ­– We have a deep understanding of the risks involved in demolition and have specific regulations and guidelines to protect our crew and anyone else involved with the project. We also have strict boundaries in place to avoid damaging any nearby homes or businesses that aren't being demolished.
Service and Accreditation – At Double D Construction Services, Inc., we are proud to have a strongly positive reputation with our clients. Our high standards in business have helped us to earn an A+ rating with the Better Business Bureau.
For your demolition projects in Mocksville, North Carolina, call a demolition company you can trust. Call us at Double D Construction Services, Inc.
---
At Double D Construction Services, Inc., our demolition company is proud to serve Winston-Salem, Greensboro, High Point, Clemmons, Mocksville, Salisbury, Boone, Mount Airy, Asheboro, Concord, Raleigh, North Wilkesboro, Lexington, Thomasville, Charlotte, and Hickory, North Carolina.