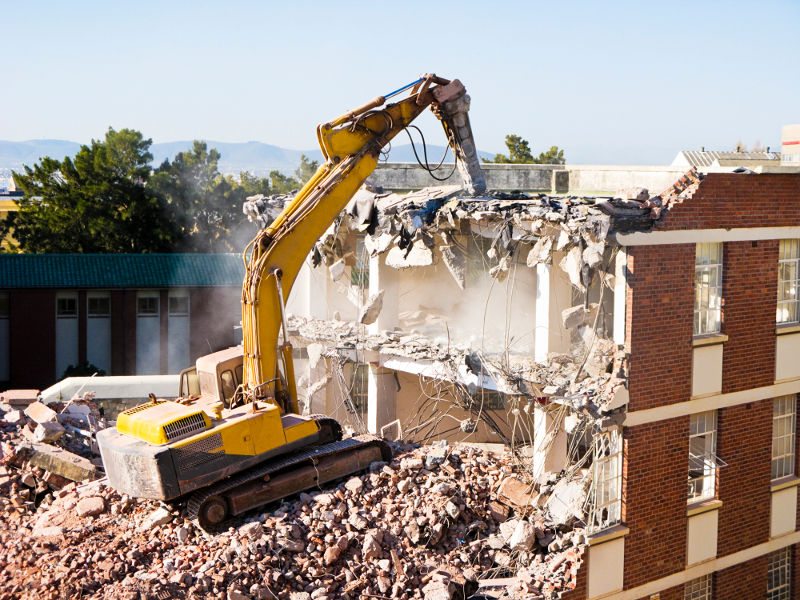 Demolition may seem like a quick and easy task, but the reality is that it is a complicated process involving plenty of planning and preparation. If you are thinking about demolition, here are some tips for getting through the process with at least some sanity still intact.
It will go much easier when you choose a qualified building demolition contractor. They will take the time to properly assess the project and provide you with a detailed proposal that outlines what is and is not included.
Ask the building demolition contractor about the timeline. Can they start right away, or are there other jobs ahead of you? Do they have enough equipment and manpower to stay on the job once started? What is the date they can be finished completely? You need this information, so you can get started on your new building construction project.
Speaking of starting building, make sure you and your contractor agree as to what constitutes a complete demolition job. It should include total removal of all debris and can also include readying the lot for the next phase.
Be sure to ask if they are familiar with safe processes and getting whatever permits are needed. You could end up liable if the ball is dropped because the job site wasn't properly secured, and the appropriate permits are not in place.
Here at Double D Construction Services, Inc., we've had more than 22 years of learning the ins and outs of the Winston-Salem, North Carolina area, including all regulations and permitting processes. We'll provide you with a proposal that explains what is involved, and we're happy to answer any questions you may have, including start and end dates. As a building demolition contractor that cares about our customers, we not only completely clear the lot, but we'll also seed and straw it should you desire. All permits and landfill fees are included in our proposal. Contact us today to learn more about our services.