Let us be your go-to company for building demolition in Greensboro.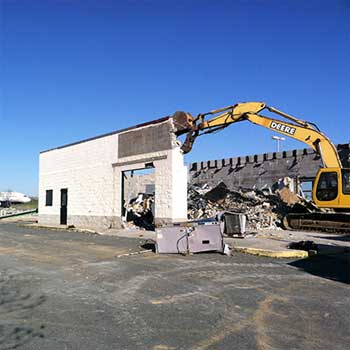 Buildings are made to last. Every step of a building's construction is done carefully and precisely to make sure the building stays standing for as long as possible. That's why, when you are having a building removed, you need building demolition professionals who understand different methods of construction, so they can know the safest and most effective methods to tear it down. At Double D Construction Services, Inc., we have more than 20 years of experience in building demolition and are the professionals you need for your building demolition projects in Greensboro, North Carolina.
When you contact us at Double D Construction Services, Inc., we understand that you need your building demolition to be done safely and effectively, and our expert team will do everything we can to make sure you are satisfied with the service you receive. Unlike many of our competitors, when we demolish a building, we not only completely tear down the building, but we also make sure we don't leave any rubble behind for you to have to deal with.
We can handle demolition projects of any shape or size, and we know how to identify and address any potential problems with the project that may cause damage to the lot or the surrounding area. When you receive a building demolition proposal from us, you know there won't be any surprise charges down the road because we include all of the permit and landfill fees and break all the costs down, so you know you're getting what you pay for.
Building demolition projects can seem daunting, but when you have an expert team like ours at Double D Construction Services, Inc., you can rest easy knowing that everything will be fine. Contact us and let us handle your demolition project in Greensboro. When we're done, you'll know for sure that you made the right choice.
---
At Double D Construction Services, Inc., we offer building demolition services in Winston-Salem, Greensboro, High Point, Clemmons, Mocksville, Salisbury, Boone, Mount Airy, Asheboro, Concord, Raleigh, North Wilkesboro, Lexington, Thomasville, Charlotte, and Hickory, North Carolina.
Similar Services We Offer: